How you can earn more WELL points with Airthings for Business
by Marie Bannister – Airthings
Does Airthings for Business help toward compliance with the WELL healthy building standard?
Did you know we spend 90% of our time indoors, where the concentrations of some pollutants are often two to five times higher than usual outdoor concentrations?[1]
For a growing number of businesses and facility managers, this alarming statistic is just one of many reasons to look into designing their facilities in a way that maximizes the health and wellbeing of their occupants. If you're one of them, you may already be interested in applying for a WELL certification.
Getting WELL certified means you must meet many building requirements. But luckily, Airthings for Business can help you get there. This article explains how.
In this blog:
What is the WELL standard?
How does Airthings work with the WELL building standard?
What are Airthings for Business monitors and how do they work?
What is the WELL standard?
The WELL Building Standard™ version 2 (WELL v2™) is a "performance-based system for measuring, certifying, and monitoring features of the built environment that impact human health and wellbeing".[2]
Grounded in a body of medical and environmental research, the standard aims to prioritize the health and wellbeing of the occupants. Currently, it's managed by the International WELL Building Institute (IWBI), a public-benefit corporation whose mission is to encourage healthy and productive indoor spaces.
For businesses and facility managers, there are many benefits to getting your building WELL certified. Not only will you ensure the safety and wellbeing of occupants (including employees), but you'll also be able to enhance your brand and align your internal stakeholders under a shared people-first vision.
In order for a space to become certified, it must meet certain preconditions and achieve a score in each of the following categories[3] (also known as concepts):
Air: ensuring optimum indoor air quality
Water: maintaining water quality
Nourishment: increasing access to local healthy food options
Light: minimizing disruption to our circadian rhythms
Movement: encouraging active lifestyles
Thermal comfort: promoting resilience against extreme weather conditions
Sound: reducing environmental noise
Materials: lowering the risk of hazardous waste
Mind: improving the availability of community-based mental health support
Community: encouraging collaboration between key community stakeholders
The process also requires project documentation plus agreeing to an onsite audit.[4] You can get a Silver, Gold, or Platform award—depending on the number of criteria you plan to fulfill.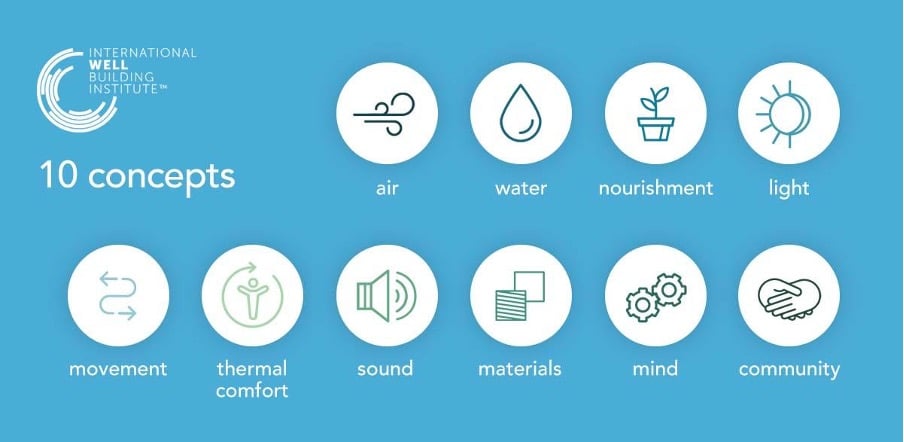 How does Airthings for Business work with the WELL building standard?
Airthings can help you satisfy certain important requirements, preconditions and optimizations for the WELL building standard for the Air concept.
The Air Quality concept[5], requires projects to provide acceptable air quality levels and meet certain thresholds. You can use our Airthings for Business indoor air quality monitors (the Wave Plus for Business and the View Plus for Business) to fulfill Parts 2 and 4 of this precondition. These are related to organic gases and radon. You may also use them to partially satisfy the Enhanced Ventilation Design requirement[6], which is designed to help you implement advanced ventilation strategies within a building.
With the View Plus, you can get an extra 2 points by fulfilling the Air Quality Monitoring and Awareness criterion[7], which has to do with the ongoing measurement of contaminant data.
What's more, there are opportunities for you to meet three extra requirements under the Thermal Comfort[8] concept—potentially giving you a total of 6 points.
| | |
| --- | --- |
| Requirement(s) | Airthings View Plus |
| A01 Air Quality (precondition) | Parts 2 and 4 met |
| A08 Air Quality Monitoring and Awareness | Requirements met (2 points) |
| T06 Thermal Comfort Monitoring | Requirements met (1 point) |
| Total | 3 points available |
What are Airthings for Business monitors and how do they work?
Our Airthings for Business monitors measure your indoor air quality in real time by detecting radon, noise, temperature, particulate matter, humidity and more. Infinitely scalable with simple plug-and-play installation, our monitors automatically tell your HVAC system to adjust according to your building's occupancy levels—ensuring maximum cost-efficiency and comfort.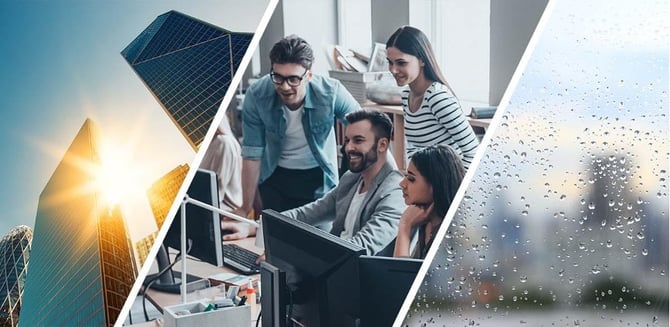 Key takeaways 
The WELL standard is a system for assessing features of the built environment that have an impact on the occupants' health and wellbeing.
Businesses and facility managers may apply for their building to be WELL certified.
To successfully achieve this, you must meet certain requirements for ten concepts: Air, Water, Nourishment, Light, Movement, Thermal Comfort, Sound, Materials, Mind and Community.
Airthings for Business monitors allow you to meet certain requirements and earn some of the points you need to become certified. Specifically, they can help you with the Air and Thermal Comfort concepts.
[1] https://www.epa.gov/report-environment/indoor-air-quality
[2] https://standard.wellcertified.com/well
[3] https://v2.wellcertified.com/en/community/concepts
[4] https://www.wellcertified.com/certification/v1/pricing
[5] https://v2.wellcertified.com/en/wellv2/air/feature/1
[6] https://v2.wellcertified.com/en/wellv2/air/feature/6
[7] https://v2.wellcertified.com/en/wellv2/air/feature/8
[8] https://v2.wellcertified.com/en/wellv2/thermal%20comfort